REGISTRATION IS OPEN!
The Southern African Society for Veterinary Epidemiology & Preventive Medicine is pleased to announce that registration to the 17th Annual SASVEPM Congress to be held at the Coastlands Hotel in Umhlanga Kwazulu-Natal, from 19-23 August 2019 is open!
The congress will be held on 21, 22 and 23 August and will be held under the theme "Field epidemiology in action". We are honoured to have Dr Sascha al Dahouk, a global expert on human brucellosis and an epidemiologist, to present the key note presentation in a special 'One Health: Brucellosis' session during the three-day congress. We also look forward to a special 'Laboratory and Diagnostics' session.
As part of our 2019 programme we will also be hosting a pre-congress training workshop which will be held at the Coastlands Hotel, on 19 and 20 August 2019.
CALL FOR ABSTRACTS
We encourage abstract submissions dealing with disease surveillance, outbreak description, control, policy, public health and diagnostics within the suggested themes. However, we also welcome submissions within the broader field of epidemiology and preventative medicine as our members have a wide base of interest. We welcome all submissions and look forward to providing the best platform for our members' ongoing contribution to the field of epidemiology and preventative medicine.
Organizers of the congress welcome paper submissions that are closely related to the topics of interest specified below:
1. Field Epidemiology in Action
2. One Health: Brucellosis
3. Laboratory & Diagnostics
4. Other (indicate topic)
For more information, please click here.
Call for abstracts deadline has been extended to 30 April 2019 .
BASIC EPIDEMIOLOGY TRAINING PRE-CONGRESS WORKSHOP (19 & 20 August)
The course is designed to provide veterinarians and para-veterinarians with epidemiological skills and an inter-disciplinary approach to deal with complex animal health and public health issues. The training will focus on building up participants' inter-disciplinary thinking and the relevant skills to be used in outbreak investigations. The workshop will be offered as practical case study simulation exercises.
Who should attend?
Veterinarians and para-veterinarians involved in the investigation and control of diseases in animal populations and who would like to gain relevant knowledge and develop specific technical skills.
Course Topics include:
· Introduction to Epidemiology
· Introduction to Surveillance
· Outbreak investigation & response
In partnership with



REGISTRATION FEES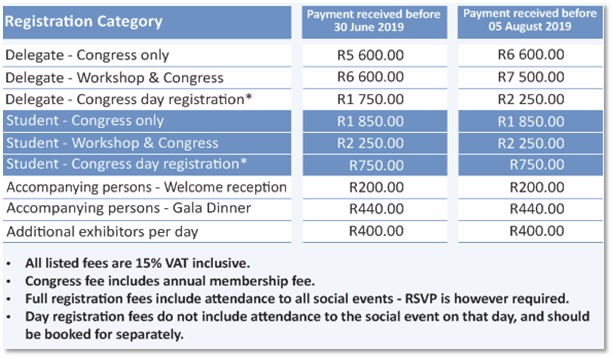 To register at the reduced early registration fees, please click on the link below, and select the
SASVEPM 2019 Congress & Pre-congress workshop
event on the available list.