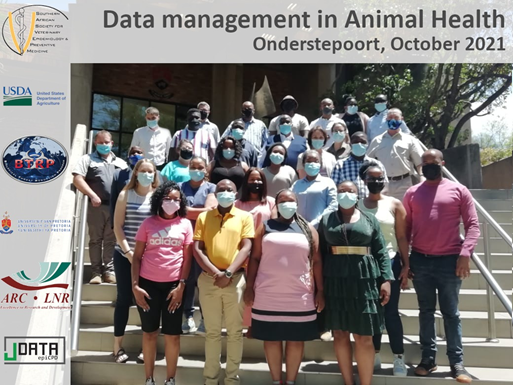 The Southern African Society for Veterinary Epidemiology and Preventive Medicine (SASVEPM) held a national training workshop on data management in the veterinary field on 11–13 October 2021. The training was given in collaboration with the Faculty of Veterinary Science, University of Pretoria, ARC-OVR, and was sponsored by our partners the United States Department of Agriculture, Animal and Plant Health Inspection Services (USDA-APHIS) and the Biological Threat Reduction Programme (BTRP).
The workshop was a great success, with 31 attendees. The participants comprised of provincial veterinary services, national veterinary services, and academia personnel. They had diverse backgrounds including veterinarians, animal health technicians, veterinary technologists and researchers. The course was given by Dr John Grewar of jDATA. It briefly covered the uses & pitfalls of Microsoft Excel for data management; much time was spent on database basics, querying data and reporting using Microsoft Access; and there was a demonstration of how to integrate Microsoft Access data with other analytics programs, e.g. R and geographic information systems. The 3-day course was CPD accredited (AC/0760/21) with 17 well-deserved points.
SASVEPM thanks the sponsors, trainer, facilitators and participants for making this workshop so valuable. We look forward to organising similar training opportunities in the future to contribute to capacity building for veterinary services in South Africa.