18th Annual SASVEPM Congress 2021
Due to the COVID-19 pandemic, the Southern African Society for Veterinary Epidemiology and Preventive Medicine (SASVEPM) had to postpone the 18th annual congress from 2020 to 2021. We had to adapt quickly and held a series of online training sessions during 2020 instead of having the usual pre-congress workshop. These were a great success and are listed here:
African Swine Fever Disease Prevention and Control (19 August 2020)
Foot and Mouth disease webinar (23 September 2020)
Animal Health and Economics (21 October 2020)
SASVEPM is very proud to have hosted the congress in 2021 as our first ever hybrid event. It took place on 25–27 August in Bela-Bela, at Warmbaths a Forever Resort. We welcomed 45 participants who attended in-person and 333 participants who attended online, making it our most attended congress yet with a total of 378 participants! We were delighted to see representatives from other African countries including Botswana, Nigeria, Tanzania, Zambia, and Zimbabwe.
The congress started with a heart-felt moment to remember Professor Gavin Thomson. He was a true advocate for veterinary epidemiology and evidence-based decision making in South Africa, and he will be dearly missed. The keynote speakers were excellent. Professor Fasina described exciting and thought-provoking possibilities of creative and innovative technologies to use in the field; Dr Letshwenyo gave a detailed overview of the activities by the World Organisation for animal Health (OIE) in Southern Africa; Prof Penrith got us all thinking about the complexities of African swine fever outbreaks in southern Africa and the possible solutions in the form of biosecurity practices; and Professor Karimuribo spoke about community-focused surveillance for emerging and transboundary animal and human infectious diseases. The proceedings can be found here.
Awards
The Willie Ungerer Epidemiology Award went to Dr Michael Botlhe Modisane, Chief Veterinary Officer, for his lifetime achievements to advance epidemiology in the veterinary field both locally in South Africa and internationally.
Dr Lucas R. Mampane received the Lifetime Achievement Award to honour his contribution to veterinary science and disease control in South Africa.
The Prof Gavin Thomson Award for the best presentation was given to Dr Liesl De Boni for her talk entitled 'African swine fever among pig keepers in Gauteng Province, 2019-2021'
The Animal Health Technician Award was a tie. Mr Gideon Kriel and Mr Sifiso Mnisi shared the honour. Mr Kriel shared valuable insights on 'GMP traceability, the hidden gem for veterinary disease control – Northern Cape experience', and Mr Mnisi spoke about 'Genetic diversity of Ehrlichia ruminantium in ticks collected from domestic ruminants in Ngaka Modiri Molema district, South Africa and its effect on diseases control'. This award was kindly sponsored by Onderstepoort Biological Products (OBP).
The Post-graduate Student Award was given to Ms Keneiloe Montsu for her virtual oral presentation called 'Assessment of risk factors for African swine fever in Gauteng province'.
The Best Poster was awarded to Ms Dikeledi Sebola who delivered a brilliant 5-minute oral poster called 'Hand hygiene compliance in the intensive care unit of the Onderstepoort Veterinary Academic Hospital'.
SASVEPM congratulates the recipients of these well-deserved acknowledgements.
Annual General Meeting highlights
The SASVEPM constitution and sponsorship policy were revised and updated during the AGM on 26 August. The 2021–2023 Executive Committee were elected during the AGM. Five of the members were re-elected. Congratulations to Dr Liesl De Boni who was elected to join the SASVEPM Executive Committee as the sixth member and Dr Nolovuyo Magadla who became the society's President. For further details, please see the ExCo's page
Thank-you
SASVEPM extends a huge thanks to all the participants (online and in-person) who made it such a lively and worthwhile event. We are very grateful to our partners who also sponsored the event: United States Department of Agriculture (USDA–APHIS) and US Defence Threat Reduction Agency (DTRA–BTRP). Other worthy sponsors and exhibitors included IDEXX laboratories and Onderstepoort Biological Products. Finally, we thank SAVETCON, who did a wonderful job organising, managing, and delivering the congress this year.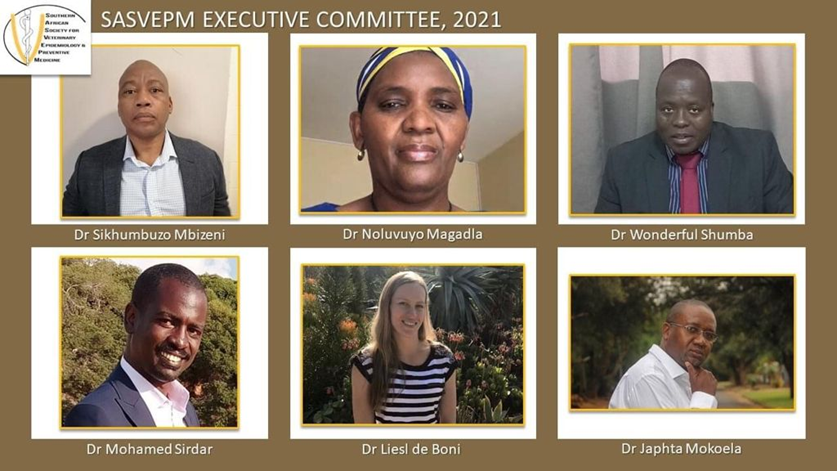 Proceedings