Download the 2016 Proceedings here
Thanks to our CE speaker, Prof Jonathan Rushton, as well as all our presenting authors, the 2016 congress in Cape Town was a great success. Please download the proceedings by clicking on the link above.
Download Prof Rushton's presentations here: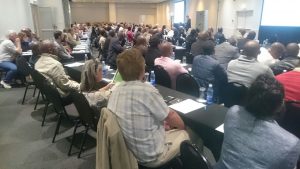 At the congress, new members were elected to the executive committee and we welcome Dr Didi Janse van Rensburg and Dr Nelson Matekwe to the committee.
Well done to this year's winner of the Willie Ungerer Memorial Prize for Epidemiology which was awarded to Dr Johann Kotze from the Mpumalanga Veterinary Services. In the image below Dr Kotze (Rt) receives the memorial shield from the President of the Society, Dr van Helden (Lft)